The World's Leading Manufacturer of the hydro flasks and stainless steel insulated water bottles, Hydrate Factory, has announced the acquisition of a cutting-edge UV Printing Technology which will streamline the company's printing processes in the run-up.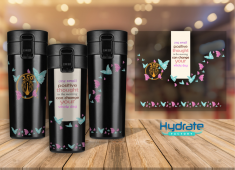 UV printing is the new technology that's taking the printing and labeling industry by storm. It offers faster, higher quality printing at the fraction of the cost of conventional printing which is great news for both Hydrate Factory and its customers. UV Printing supersedes conventional printing in many ways and here's why:
Curing and drying of the ink is done instantly which means faster turnaround times for clients with rush orders
Colors are not absorbed into the material that it's printed on which means brighter, longer lasting texts and images.
But it's not just the economic and efficiency advantage that makes UV printing superior to conventional printing. Since it dries instantly, there is no release of volatile organic compounds into the environment, and that means almost zero carbon footprint.
Commenting on the acquisition of the printer, CEO of Hydrate Factory, Zheng Chen said: "We are always looking for ways to improve efficiency and the acquisition of the UV Printing Machine is in line with our mission to produce high quality, durable products that will last a lifetime. Moreover, we understand how nerve-racking it can be to wait for an order especially in the run-up to Christmas and this machine will ensure we can quickly fulfill all orders without disappointing our customers.
Now in its 20th year of business, Hydrate Factory has established a reputation for producing high-quality sports water bottles, coffee tumblers, coke shape vacuum flasks, coffee pots, and kettles. Their products are perfect for branded stores, retailers, hotels, fitness centers, schools, and colleges. Clients can harness the company's printing and engraving options for a truly outstanding product.
For further information about Hydrate factory or to view their Water Bottle catalog, visit: https://hydratefactory.com
About Hydrate Factory
Hydrate Factory, founded in 1998, is an innovative company specializing in manufacturing and supplying of stainless steel vacuum flasks. Our product portfolio includes re-usable water bottles, vacuum flasks, sports water bottles, tumblers, and growler flasks. Our main market base is in Europe, America, South East Asia, and the Middle East.